Description
Effortless Riding: While still weighing 13 pounds, we made the frame of the 16-Inch Pro thicker to increase stability and durability when your child is first learning how to ride.
Zero Maintenance: On the Pro model we kept the Continental belt-drive system, the gold standard of rubber belts. It is still grease and rust-free, requires minimal maintenance, and provides a silent, ultra-smooth riding experience.
Even Smoother Ride: Belsize 16-Pro bikes have an upgraded hollow bottom bracket, integrated crankset, and cassette-free hub for easier pedaling, even less maintenance, and a more enjoyable ride for your child.
Safer Stopping: Front and rear v-pull TEKTRO hand brakes are easy to learn and safer than pedal/coaster brakes. The adjustable brake handles ensure a perfect fit for your kiddo's small hands.
Quick Assembly: All you have to do is attach the handlebars, front tire, adjustable seat, pedals, and a few other small parts once it arrives and your kid will be ready to ride.
Frame Material: Aluminum Alloy
Size: 16" wheels
Weight: 13 lbs
Seat Height: 18-22 inches
Gain Ratio: 4.0
Gear Ratio: 2.09
Age: 3-7 years
Height: 41"- 47" inches
Inseam: 18-22 inches
CPSC Certified
U.S. Consumer Product
Safety Commission
For novice riders, the seat height and inseam range are the same. For advanced riders, the seat should be approx. 1.5"taller.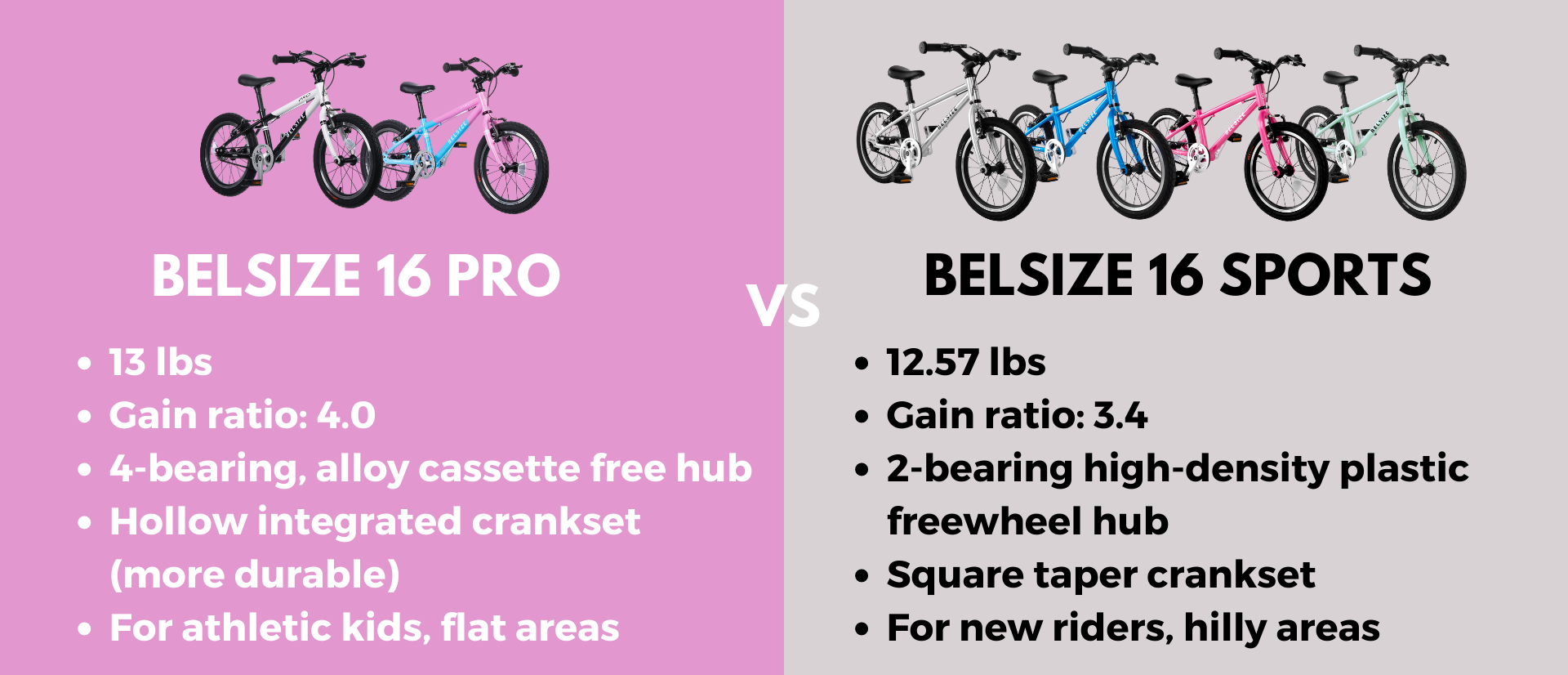 Features
Ultra-Smooth Riding
By using a rubber belt instead of a metal chain you can virtually eliminate maintenance and grease so your child has more time to ride. Compared to thread-on freewheel hub, slide-on cassette free hub helps build a more efficient driven system.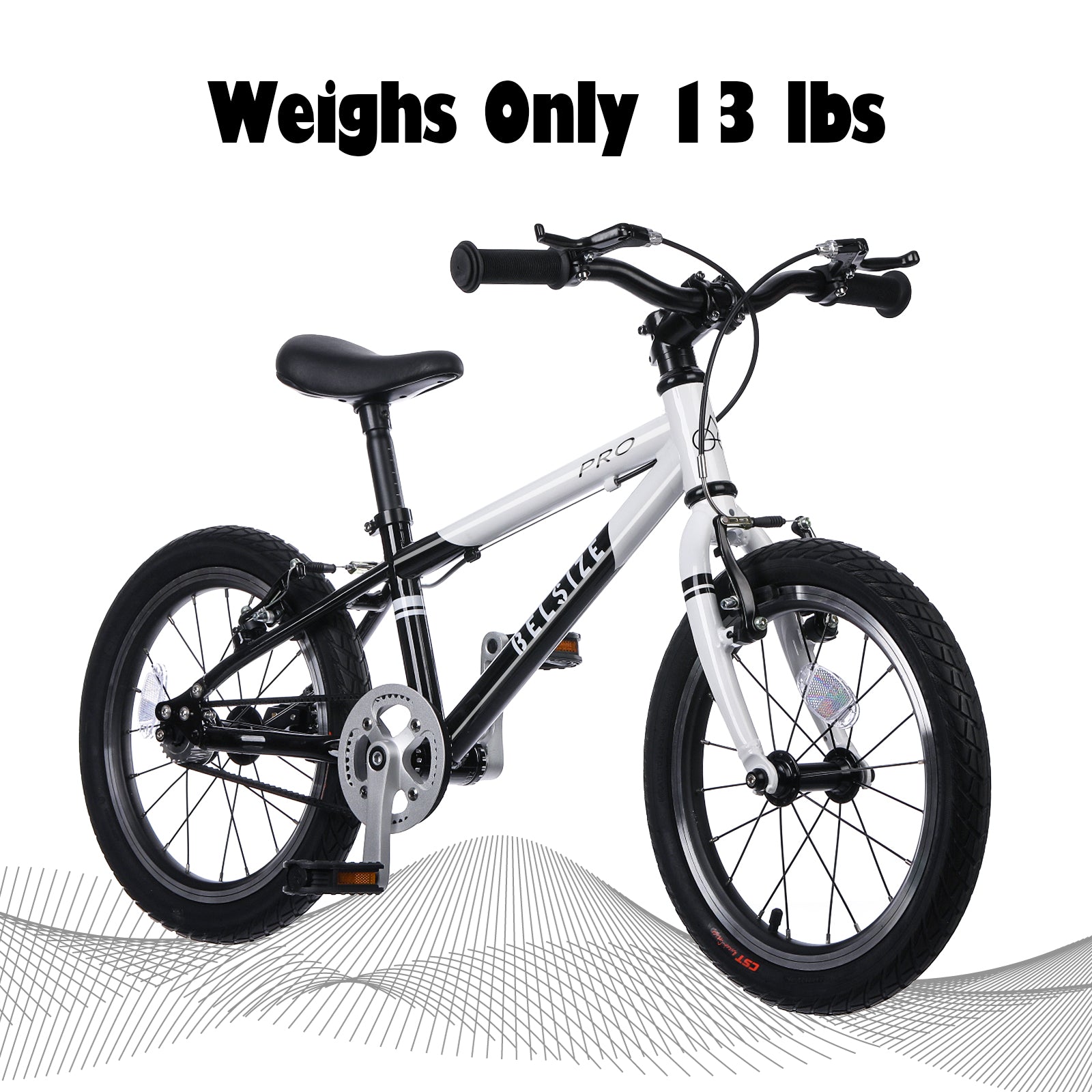 Ultra-Lightweight for Easy Riding
A light and rust-proof aluminum frame with a geometry that inspire confidence.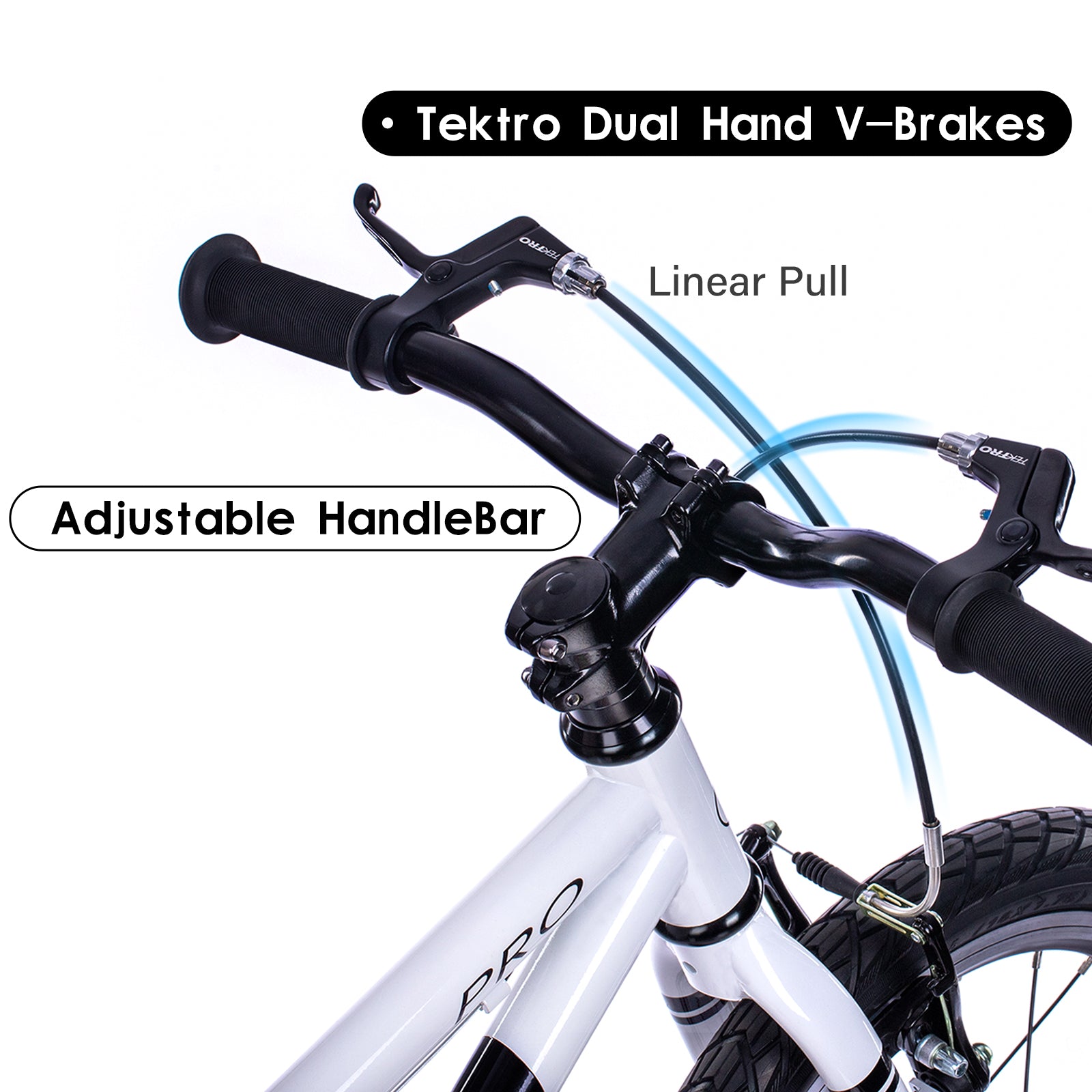 Always Keep Safe
Hand brakes allow for safer, more gradual stops instead of the all-or-nothing harsh stops that come from coaster brakes.

Geometry

Specs
Cranks
CNC'D Al6061, 105mm
Riser Handlebar
480mm Double Butted Al6061
Pedals
POLYURETHANE Bearing
Frame
Hand Brushed Al6061, Forged Drop Outs
Seat Clamp
Er Bolt, 28.6mm
Front Sprocket
CNC'D Al6061, 46T
Fork
Hand Brushed Al6061, Forged Drop Outs
Rear Hub
Four-bearing Cassette Free Hub
Stem
Forged Al6061, 60mm Reach
Rims
16 x 20H, Double Walled Al6061
Rear Sprocket
CNC'D Al6061, 22T
Brakes
Tektro Dual Hand V-brakes
Front Hub
Cartridge Bearing, CNC'D Al6061
Belt
Continental Belt, Comes with a Belt Guard
Grips
Er Soft Touch Mushroom
Tyres
16*1.75 in CST, 47 - 305
What the bicycle media is saying

Review